Focus Boxing Gloves Black Cardinal
SKU: HWKY-BG-FCS-BC-08
1,189,150 IDR
1,399,000 IDR
LONGER GRIP. STRONGER POWER.
Focus 2.0 is the greatest generation of Focus! Since 2012 we always make an improvement and innovate from a little thing to the big things, and for the new Focus generation specially made with Microhawk Power Leather. Microhawk Power leather is Hawkeye's new technology of hybrid leather, that has strong endurance, so you don't need to worry in thinking about its durability. Besides a new technology with a material that we used for this generation, Focus has a really secured Velcro® Straps. You'll see the luxurious touch of diamond quilted stitching on these gloves and a very precision high quality of stitching. Every detail of these gloves we developed with an R&D process to make you feel the best experience of wearing this Focus greatest generation.
FEATURES
Focus Greatest Generation
Made With Microhawk Power Leather©
Hi-Tear Resistance
FLUX™ 4 Function Layers Foam Technology
Longer Foam for Wrist Protector
Featherweave Lining©
Precision Stitching
Precision 10 Airflow Holes
Finger & Thumb Lock
High Technical Features
PRODUCT DETAIL
Available in 8oz - 10oz -12oz - 14oz -16oz
Available in 5 Colors
SIZING GUIDE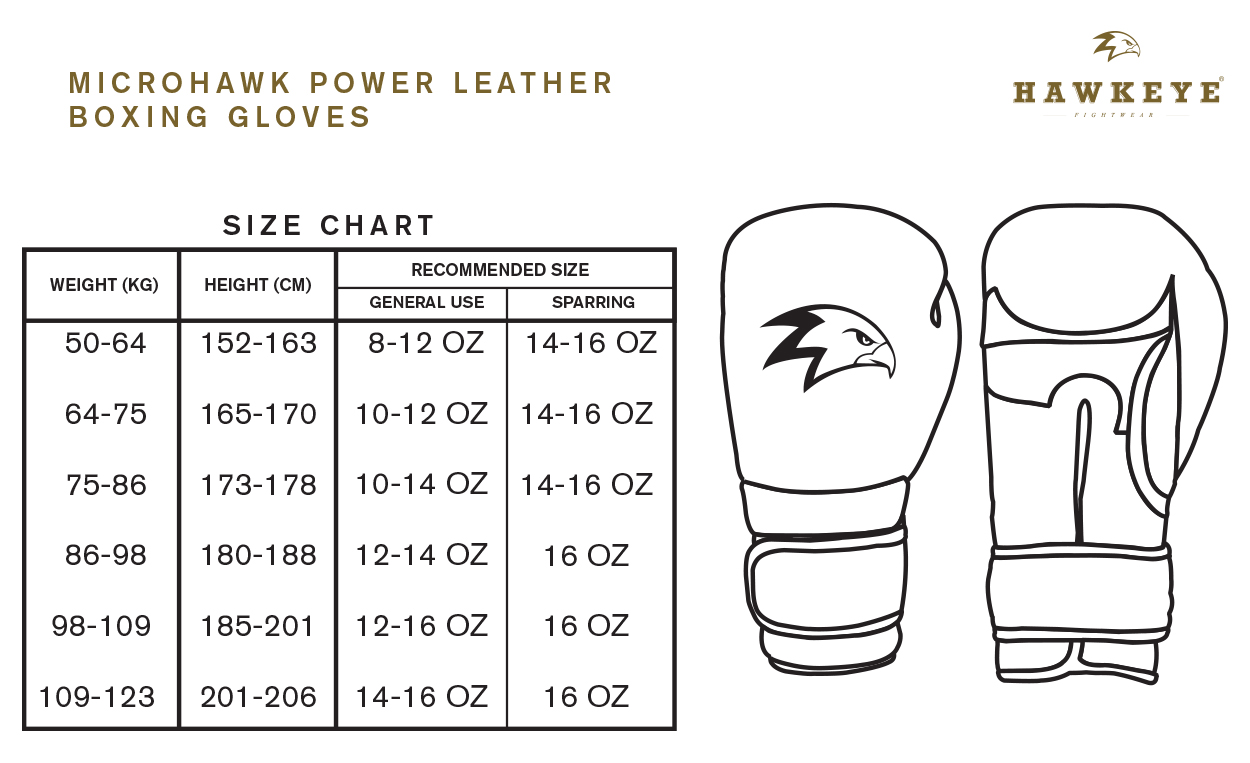 EXCHANGE OF GOODS BECAUSE IN CASE OF WRONG / DEFECTIVE GOODS POLICY
Customers can make an exchange of goods if the HAWKEYE FIGHTWEAR products that are received is wrong (in case of size and color) or in a defective or damaged condition, by making a confirmation within 3 days after the goods have been received.
Products that have been bought cannot be refunded under any circumstances. Defective or damaged conditions will be considered so, if the defect or the damage was at the time the customer received the goods and not because of the customer using the product not as instructed.
Exchange rules for defective goods are as follows:
Customers need only to notify HAWKEYE FIGHTWEAR Fighter Care via e-mail, WhatsApp, SMS or phone call in order to make an exchange, and we will assist you to return the goods.
The photo of the product and barcode that has been bought must be attached at the time of the notification.
Exchange will be done when the defective product is received by the HAWKEYE-FIGHTWEAR party.
The buyer shall bear the postage fee for the exchange, but after the refund process is completed, the shipping fee will be returned with the replacement product.
The time to process the return of the HAWKEYE-FIGHTWEAR product is a maximum of 3 days (except the stock of the product being unavailable)
Fighter Care: +6281212262644 / fightercare@hawkeyefightwear.com
Shipment will be proceed at 03:00 PM (GMT +7). Limit for payment is at 02:30 PM (GMT +7). If the payment is after 02:30 PM (GMT +7), the shipment will be proceed the next day. 
For all customers you'll receive the tracking number maximum D+1 for JNE & D+2 for Si Cepat after the order status is confirmed in the operational hours via email. But no worries because your order will be ship on time.