Tanker Jacket Marine Troops
SKU: HWKY-APR-JSTM-TRP-S
Tanker Track Jacket was designed with Clementterry fabric that has air vents function, which allows air to move freely that will keep you comfortable while you are doing physical exercises under the scorching sun. It can also protect you from the cold winds while doing sports, it will keep you warm.
Limited goods, Tanker Track Jacket has an earphone holder feature in the front pocket, full zip function with an upright collar and uses Fighter Fit cut that will follow your body muscle contour.
SIZE CHART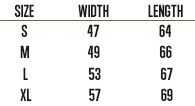 All Orders will be reviewed, packing and shipped by our Team within 1-2 working days after payment confirmed. Orders that are taken on weekends (Saturday and Sunday) will be checked and shipped on Monday. 
For all customers who selected Si Cepat as the shipping courier, you'll receive the tracking number maximum D+2 after the order status is confirmed in the operational hours via email. This is Si Cepat regulation, but no worries because your order will be ship on time.
Our last shipment is on 02:45 PM in the Weekdays (Monday - Friday)