Rustle Technical Tees Marine
SKU: HWKY-APR-TCRS-MAR-L
Rustle T-Shirts are designed using Clementfiber fabric that can give you maximum support for when you move a lot and will keep your body dry. This fibre is also water repellent. Therefore, it will protect you from water splashes or rain.
Limited goods, Rustle T-shirts have Regular Fit cut that is wide on the chest and will follow your body contour with its elasticity of this fibre designed for your comfort.
SIZE CHART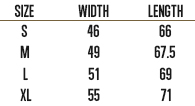 All Orders will be reviewed, packing and shipped by our Team within 1-2 working days after payment confirmed. Orders that are taken on weekends (Saturday and Sunday) will be checked and shipped on Monday. 
For all customers who selected Si Cepat as the shipping courier, you'll receive the tracking number maximum D+2 after the order status is confirmed in the operational hours via email. This is Si Cepat regulation, but no worries because your order will be ship on time.
Our last shipment is on 02:45 PM in the Weekdays (Monday - Friday)
Great quality 👍. Bahan seperti dryfit tapi lebih tebal dari sportwear sebelah jadi terasa lebih bagus, namun tetap adem. Recommended banget
Great quality 👍. Bahan seperti dryfit tapi lebih tebal dari sportwear sebelah jadi terasa lebih bagus, namun tetap adem. Recommended banget